Jim Collins said that "the most important decisions business people make are not what decisions, but who decisions." If 80% of your turnover is the result of bad hiring decisions, the most important thing you can do to reduce turnover is to focus on hiring people more likely to stay.
Companies make bad hiring decisions for a variety of reasons, whether it be an inability to measure the attributes and characteristics that matter most, incorporating the best methods to identify the desired attributes, or even making quick decisions due to lack of time.
"Employers spend an average of 6 seconds reviewing an individual resume." -

TheLadders
It's safe to assume this isn't due to a lack of effort, but a lack of resources to identify what matters most in hiring in a strategic period of time. To truly get to the bottom of reducing turnover, the best place to start would be to identify the most important drivers of turnover to address in the hiring decision.
This assertion is supported by a simple, commonsense proposition, that employees bring a lifetime of training, experience and personal characteristics that bear on their capacity to be successful and their chances of being satisfied in a position. Measuring the right employee attributes that develop over a lifetime, determining their capacity to predict employee satisfaction, performance, and turnover, and employing these characteristics in employee selection offers a powerful opportunity to select employees who will be more satisfied and successful.
Employee Experience Before Your Company
To be clear, this isn't to say that people aren't influenced by their work environments. Indeed, they are. However, the training and experiences an employee has had before coming to your company will vastly outweigh whatever experiences they have during the limited time they spend at your company.

Any efforts a company may take post-hire to influence an employee will pale in comparison to the influence of their past life experiences as well as their own personal traits.
The application of this strategy also may reduce, if not eliminate, the need for costly and time consuming programs to enhance employee performance and satisfaction if, in fact, the drivers of these programs are rooted in hiring practices that are yielding poorly suiting employees.
Given this fact, it's surprising that only the most innovative companies have grasped the power of screening for turnover risk. Far too many companies focus solely on screening for the traditional factors (performance-related criteria, culture, etc.) when in reality, screening for turnover is the answer they have been waiting for.
Interested on how much turnover is costing your company? Click here to download our turnover calculator.
---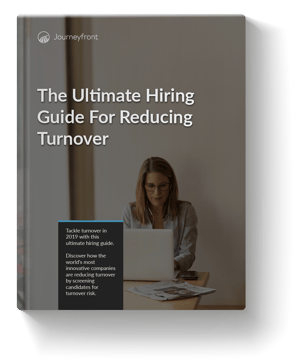 Enjoy this article? This is a small portion of our hiring guide "The Ultimate Hiring Guide for Reducing Turnover." Take a look!
Click here to download the complete guide