The ability to manage and lead people is often thought of as an inherent trait that all individuals possess. This is not the case, as shown by Gallup's State of the American Manager: Analytics and Advice for Leaders. Gallup conducted a comprehensive study based on 2.5 million teams and managers around the world, and their results showed that only 10% of working people possess the talent to be a great manager.
This is disconcerting because as the old adage goes "people leave bosses, not jobs." If you are looking to decrease turnover, who you hire and promote to management is crucial. Often individual contributors or good technicians get promoted or hired to management positions based on their performance in their current roles. Unfortunately, the skills and attributes that lead to high performance in their previous role, and subsequent promotion, are not what are needed to be a successful manager.
When hiring or promoting to management, it is important to evaluate candidates based on their managerial skills. Do the individuals have the ability to communicate, organize, and motivate a team toward a goal? Is he or she able to coach and grow a team? Do these individuals exemplify your company's core values? These attributes can be tested through interview questions. We've included some examples below:
Behavioral:
Name a time when an employee went against your directives. What did you do?

Describe a time you had to take a role of a leader without having the official title?

In your previous job, tell me about a time that you coached an employee to help improve performance.
Situational:
What do you do when you are unsure how to achieve a goal given to your team?

How would you deliver bad news to your team?

Let's say you are given a new training at work. What would you do to ensure that the training is implemented?
Technical:
How would you go about creating a team that is committed to you?

How do you motivate your team? What would you do if that doesn't work?

How would you set an example for a team?
Alternatively if you have a candidate pool that does not already have the skills needed, do any individuals stand out as having the ability to learn the necessary skills? An indicator would be examples of previous success learning the skills needed for a position. This is important because as long as the necessary foundational traits and motivators are there, management skills can be taught. One study done in the hospitality industry (a sector known for high turnover) found that as management training increases, turnover decreases.
In conclusion, don't fall into the preventable trap of promoting and hiring bad managers just because they were great at their previous role. It's worth the time to identify leadership skills in order to reduce your team's turnover as well as improve employee performance. Could you use help identifying leadership talent within your organization? Journeyfront can help you find the right people for the job.
---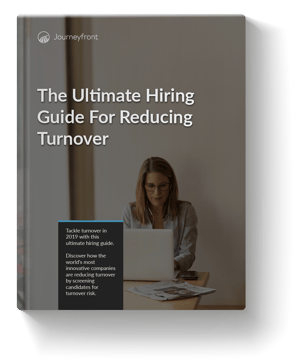 Enjoy this article? This is a small portion of our hiring guide "The Ultimate Hiring Guide for Reducing Turnover."
Click here to download the complete guide